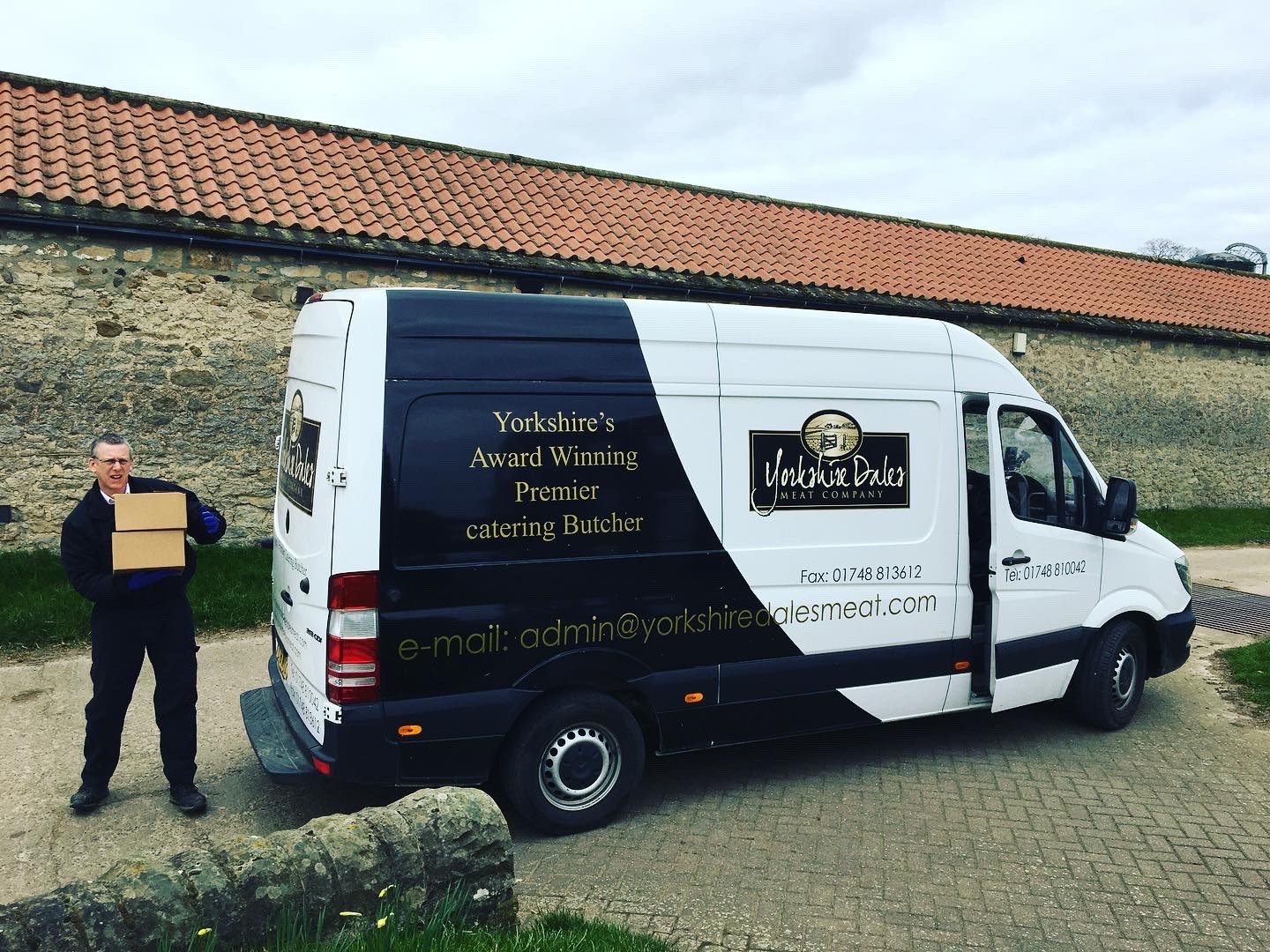 In collaboration with Dales Dairies, Wensleydale Eggs & Dooleys of Easingwold we will be offering a door to door delivery service of meat, eggs, bread and milk, to DL6 to DL11 and DL1,2 + 3 postcodes.
We want to do our bit, by continuing to provide delicious and nutritious food to you and your families during this difficult time. Support your local businesses and treat your family to our delicious range of high quality meat and poultry today.
All our produce is from regional suppliers who share our passion & commitment to the highest standards of food provenance.
| | | | |
| --- | --- | --- | --- |
| Description | Unit | Price/unit | Approx. size |
| Whole milk | 2 litre poly | £2.25 | 2 litre |
| Semi-skimmed milk | 2 litre poly | £2.25 | 2 litre |
| Large free range eggs | Half dozen | £1.50 | |
| Salted Yorkshire butter | 250g | £2.80 | |
| Chedder cheese | 200g | £3.80 | |
| Fresh bread – white sliced | Small loaf | £2.00 | |
| Fruit & veg box | 11 types of fruit/veg – see below | £18.95 | |
| Beef Casserole (500g packs) | Pack | £4.45 | 0.5 |
| Beef Mince (500g packs) | Pack | £3.00 | 0.5 |
| Beef Sirloin Steak 8oz | Each | £5.20 | 0.228 |
| Beef Topside | Each | £10.50 | 1 |
| Burgers – Beef 04oz (pack of 4) | Pack | £3.20 | 0.45 |
| Chicken Fillets (pack of 5) | Pack | £6.99 | 0.2 |
| Chicken Whole (1.4kg approx.) | Each | £5.50 | 1.4 |
| Bacon 200g | Each | £1.40 | 0.2 |
| Gammon Horseshoe Steak 10oz | Each | £3.00 | 0.285 |
| Lamb Steak | Each | £3.50 | 0.228 |
| Pork Steak | Each | £1.20 | 0.228 |
| Sausages – Pork & Apple | 6 sausages 375g pack | £2.50 | 0.375 |
| Sausages – Pork Farmhouse | 6 sausages 375g pack | £2.50 | 0.375 |
| Sausages – Swaledale (Cumberland) | 6 sausages 375g pack | £2.50 | 0.375 |
Veg box contents – 5 carrots, 1 leek, 2 onions, 2kg potatoes, 5 bananas, 2 oranges, 4 apples, 4 satsumas, 1 punnet of cherry tomatoes, 1 cucumber, 1 twin pack little gem lettuce
Free delivery on orders over £30 – Tuesday and Thursday
If you have any special order requests please let us know
Orders can be placed for delivery or collection via telephone on 01748 810042