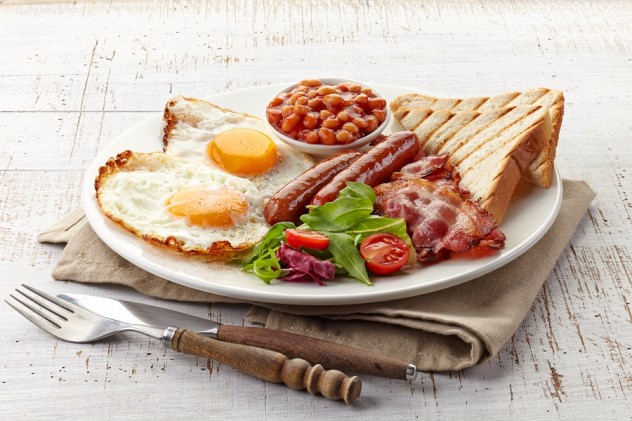 Yorkshire Dales Meat Company has revealed that it sells in excess of twenty tonnes of sausage varieties, ten tonnes of bacon and one-and-a-half tonnes of black pudding per year, as it marks Farmhouse Breakfast Week, 25 – 31 January.
The company supplies restaurants, hotels and cafes with all three, while it provides bacon – along with burgers and steaks – to Asda supermarkets across the North of England.
Yorkshire Dales Meat Company celebrated 10 years in business last year and is run by the Knox family, who have been farming at Mill Close Farm in Wensleydale – where Yorkshire Dales Meat Company is located – for more than 100 years.
Yorkshire Dales Meat Company prides itself on high provenance and, where possible, sources meat from as close to Wensleydale as possible.
James Knox, Finance Director at Yorkshire Dales Meat Company, said: "A big cooked farmhouse breakfast is one of the great English traditions and we're glad to help uphold it.
"Sales of our bacon in Asda stores have gone through the roof since it was first listed in 2013, and Asda is adding it to more and more stores thanks to the great sales and feedback. "We're also seeing increasing demand from chefs and cafes for all our breakfast products, and it's fantastic to think about how many people enjoy our wide range of sausages, black pudding and bacon each week."
Yorkshire Dales Meat Company's sausage varieties include traditional pork, wild boar, black pudding, chilli, Swaledale rings, venison, beef, game and more. Its Caramelised Red Onion sausages came out top for best catering butcher sausage in a public vote at The Camp Hill Estate Beer and Sausage Festival in 2014.
Farmhouse Breakfast Week 2015 is designed to refresh Britain's breakfast routine with the 'Shake Up Your Wake Up!' challenge. People across Britain are being encouraged to make small changes to their daily routine to encourage them to take the time to have breakfast.